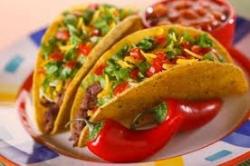 Mmm fish taco anyone? If you love Mexican food and tacos in particular, chances are you haven't been kept awake worrying about the distinct lack of fish featured on the menus of London's Mexican restaurants. That hasn't stopped the Tortilla Mexican Grill chain from coming up with the novel 'Fish Taco Tuesday' concept though.
Clearly Tortilla reckon there's a big fat fish taco shaped gap in the market just waiting to be filled, so that's what they've done. Tortilla's fish tacos are "made on-site daily with fresh, sustainably sourced, line-caught pollock and Icelandic cod, marinated in a special recipe that includes chillis, coriander, lime juice and olive oil, then pan-fried. Add your choice of salsa, ranging from mild to fiery, chargrilled red peppers, sautéed onions and crispy lettuce, all served up in corn or wheat flour tortillas".
Fish fans will no doubt be literally running down the streets to get hold of their first fish taco next week, and who can blame them, at £4.95 each they've got to be worth a try!
Fish tacos will be served every Tuesday at Tortilla's Market Place restaurant, W11 8AH.