The Cookbook Cafe, at the InterContinental London Park Lane will host 'Flavours of Peru' in association with the Embassy of Peru, a week-long gourmet food festival celebrating contemporary Peruvian cuisine. Acclaimed chef Virgilio Martinez of Central restaurant in Lima will create the culinary festival that runs 17th – 23rd October 2011, bringing one of Peru's most exciting restaurants to the capital.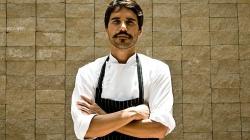 'Flavours of Peru' at Cookbook Cafe will reflect the growing celebration of indigenous Peruvian cuisine and present dishes served by chef Martinez at Central, such as grouper tiradito with rocoto, tubers, naval avocado and chalaca; and hot ceviche of shrimp and seabass with charcoal and araza. The menu will be preceded by renowned Peruvian Pisco Sours, made with the fermented juice of different varieties of grapes.
Virgilio Martinez has held the position of Executive Chef at Astrid y Gaston, listed on the San Pellegrino World's Best Restaurants list. He is currently chef patron of Central restaurant in Lima, which has received critical acclaim since opening in 2010. Before opening in his home city, Virgilio worked in notable kitchens in New York, London, Singapore, and Spain. Next year he is set to open his own restaurant, Lima London, with a site earmarked in Shoreditch.
Peruvian Cuisine has a long and distinguished history. The potato was brought back to Europe having been discovered high in the Peruvian Andes. With Spanish colonisation and migration from Africa, China, Italy, and Japan, a huge variety of influences and techniques have been brought to bear on the indigenous cuisine, with resulting dishes such as ceviches, stews, and most notably chifa. A strong regional identity predominates, with dishes from the Andean region still featuring ingredients from pre-Inca times; or the cuisine of the jungle, which has its own fish, fruit and vegetables.
Dinner will be à la carte and based on dishes from Central restaurant and lunch will be served on Cookbook Cafes market table, with a selection of more traditional dishes in the option of three starters, three main courses, and three desserts (priced at £30 for two courses, including a Pisco Sour, water, tea/ coffee.) Musical entertainment will accompany dinner, and the special weekend brunch.
INTERCONTINENTAL LONDON PARK LANE FROM 17 – 23 OCTOBER 2011
Reservations can be made on 020 7318 8563 or hello@cookbookcafe.co.uk.
Further information can be found at www.cookbookcafe.co.uk.