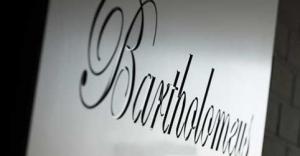 Foodepedia recently went to French Flanders where the beer was very good but the food was rather uninspiring. Seems now that we may have been to the wrong place.
On the Flemish Coast there are 14 resorts, and while the beaches may be a bit nippy for all but the hardiest holidaymakers, the restaurants offer somewhere warm and welcoming, as well as some seriously fine and modern dining. Right now you can sample what they have to offer without leaving London by going to Harrods.
There are six Michelin starred restaurants on the Flemish coast and ten with Bib Gourmand. One of the starred restaurants, Bartholeomeus, Heist is featuring in Harrods and chef owner Bart Desmidt was at the opening last week along with xx other chefs.
Bart opened his restaurant at the age of 23 with no formal chef training he tells me, just work experience and his wife out front. Now 15 years later it's one of the finest restaurants in the area with the Michelin Star a just reward for the massive effort the couple have put into their business. 'It's pretty tricky in there though,' Bart tells me waving in the direction of the Harrod's kitchen. 'It's busy with its normal service and I'm working in a new and unfamiliar environment and trying to get my dishes done to my standards despite the obstacles.'
He must be doing the business back there though because his Coquilles St Jacques with sherry and truffle is excellent, a mix of old and new that sings off the plate as does another sample dish of Steak tartare with oysters and pear. Not that fish is all he cooks. 'I wouldn't like someone who is not a fish eater to be unhappy in my restaurant,' he says. 'I am always experimenting and the menu changes each month. My dishes are fresh and light, based on the classic methods but new and vibrant.'
You can try Bart's dishes, along with the signature dishes of the other great chefs who accompanied him over, David Sevranckx, Piet Devriendt and Vincent Florizoone and Marii Cattor until December 8th in the Sea Grill and Rotisserie restaurants. Meanwhile in Harrods Food Hall there will be a big range of Flemish foods and in the 2nd Floor Chocolate Bar, what else but lots of lovely Belgian Chocolate.
Plus Buy a Flemish product from the Food Hall, Chocolate Bar or order a specialty dish from The Sea Grill or Rotisserie restaurant for your chance to win a weekend for two at the Flemish Coast.