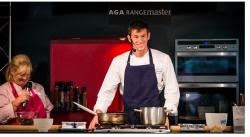 Foodies Festival, the UK's biggest celebration of food and drink, comes to Alexandra Palace for the first time this summer, transforming the grounds into a foodie heaven 3,4,5th July with celebrity chefs, new food and drink theatres, artisan producers and street food.
Award winning celebrity chef Aldo Zilli joins 2014 MasterChef winner Ping Coombes in the Aga Rangemaster Chefs Theatre, where they will cook their favourite summers recipes, inspiring festival-goers to recreate their dishes at home and experiment with new flavours and ingredients.
Top chefs appearing at Foodies Festival Alexandra Palace include: 
– Tony Rodd – MasterChef 2015 finalist
– Emma Spitzer – MasterChef 2015 finalist
– Aldo Zilli – TV Chef
– Rakesh Ravindran Nair – The Cinnamon Club
– Adam Handling – Adam Handling at Caxton
– Alex Theibaut – Maze (Gordon Ramsay)
– Anna Haugh – London House (Gordon Ramsay)
– Arnaud Stevens – SixtyOne
– Andrew Jones – The Chamberlain
– Maria Tampakis – Heddon Street Kitchen
– Gerald Mirey – The Narrow
– MasterChef finalists Saira Hamilton and Jackie Kearney
– Peter Joseph – Tamarind
– Daniel Kerr -T.E.D
Visitors to the festival this summer can look forward to toasting Foodies' big year in the New Wine and Champagne Theatre, where experts Neil Phillips and Charles Metcalfe will guide visitors through this season's best British bubblies from the UK and around the world, while beer expert Melissa Cole hosts masterclasses in the New Craft Beer Theatre, matching foods with locally produced craft beers.
A New Tasting Theatre offers'How to Sniff Chocolate like a Rockstar' and Chocolate Safari masterclass with Coeur de Xocolat, and local experts guide visitors through Urban Bee Keeping, Cheese Tasting, Mixology and Spice Balancing.
The Cake & Bake Theatre is an inspiration for passionate bakers with top local cake makers and bakeries sharing their tips for baking delicious summer cakes. Visitors can also enjoy 3D cake modelling, Chocolate Making and Sugar-Craft masterclasses and a complementing Chocolate, Cake and Bake Village selling bakes, jams, gadgets and baking essentials.
The Street Food Avenue is a feasting hub at the heart of the festival, offering a huge selection of hot and cold dishes from around the world. Japanese, Thai, Brazilian, Argentinian, Indian, Mexican, French and African are just some of the cuisines visitors can tuck into at communal tables in theFeasting Tent.
With over 200 exhibitors in the Artisan Producers Market selling award winning cheeses, wines, bakes and condiments; festival-goers will be spoilt for choice with samples and for what to buy to take home and enjoy – a perfect setting to meet the producers and share their passion for food and drink. 
A BBQ Arena hosts grilling experts who will share their favourite recipes for fans of outdoor dining and King of the Grill Challenges take place throughout the day. For those brave – or foolish enough – the famous Chilli Eating Competition challenges those who like it spicy to try and break the current record of 14 varieties of chillies eaten to win the Chilli Eating Crown. 
Little foodies can explore their taste buds and learn basic skills with Picnic in the Park themed masterclasses in the Childrens Cookery Theatre, where Kiddy Cook will show them how to make finger sandwiches, jellies and chocolate bugs. 
After a day of food and fun, foodies can relax with a spot on the grass and soak in the atmosphere with live music from the entertainment stage and a glass of bubbly or cocktail from the Giant Pimm's Teapot or Captain Morgan Mojito Galleon. 
Tickets:
Tickets are on sale now at www.foodiesfestival.com or by calling 0844 995 1111
Friday adult day ticket £12.00 (£10.00 concession)
Saturday or Sunday adult day ticket £15.00 (£13.00 concession)
3-day adult ticket £25.00 (£18.00 concession)

Friday VIP ticket £45.00*
Saturday or Sunday VIP ticket £48.00*
*VIP tickets include a welcome glass of bubbly, access to the VIP tent with private bar and refreshments throughout the day, priority entry to food and drink masterclasses, a goody bag and a showguide.
All children aged 12 and under go free to all Foodies Festivals when accompanied by an adult.
Open times:
Friday 3rd July: 11am – 8pm
Saturday 4th July: 11am – 8pm
Sunday 5th July: 11am – 7pm