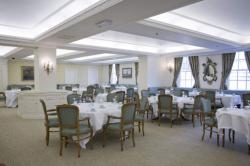 Fortnum & Mason has long been an English institution with history dating back to the 1700s. With the recent announcement that the company will be opening it's first overseas store since 1929, when it closed its outlet on Madison Avenue in New York, the company looks to be more popular than ever.
While Fortnum & Mason is busy scoping out possible venues in China and the Middle East, let's not forget its base in Piccadilly.
From now until the 13th March 2011, Fortnum & Mason are offering £15 two-course menus across their restaurants (St James's, The Gallery and The Fountain) and a special menu in the wine bar. And for every £15 meal purchased, they will donate £1 to The Prince's Trust.
For more information, go to their website at www.fortnumandmason.com
Fortnum & Mason is at 181 Piccadilly, London W1A 1ER