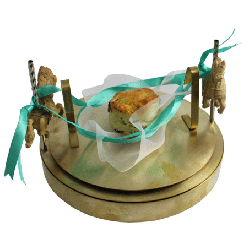 Back in February of this year, Fortnum & Mason partnered with London's Royal College of Art to launch a unique automata project. Now, just eight months later, the retailer is gearing up to unveil a whole host of playful and imaginative Wallace and Gromit-esque machines developed by the students – from a mechanical'honey waggler' to a wind up'egg topper' – as the project begins to come to fruition.
Coinciding with the start of the London Design Festival, thirteen shortlisted automata will be displayed in a  curated exhibition on the first floor at Fortnum's  Piccadilly store. The project demonstrates the company's continued support for British creative design, and its enduring commitment to introduce the'new' to its customers.
Fortnum & Mason has a long history of innovation, from inventing the Scotch Egg in the 1730s for hungry travellers, to introducing Britain in the early 1930s to Alvar Aalto's Scandinavian bentwood furniture. This project is part of an initiative to celebrate Fortnum's heritage of seeking out and helping to develop bright new creative talent to bring new and exciting products to customers. In part inspired by Fortnum's past pioneering design successes (including the SPORK and the 1940s Active Service Chocolate), the intention is to promote design that is both modern and playful.
Briefed to create automatons that would either transform, entertain or function,'within the setting of a feast', the Product Design students at the RCA have developed a captivating collection of machines and products, with which many of which visitors to the exhibition will be able to play and engage. These thirteen have been selected from ninety-seven original designs, and it is hoped that even those that have not reached this stage will be used for future projects, and initiate an ongoing relationship with the young creative talents.
In addition to the honey waggler and egg topper, other automata include the'Knickerbocker Glorifier', an elaborate device that makes the famed ice cream sundae, a candy floss maker driven solely by candle power, and'The Great Journey', a wind up automaton that brews and helps prepare tea.
The Great Journey
While the exhibition draws to a close at the end of September, Fortnum's collaboration with the RCA will continue, as the company is working with a number of the students to help them develop and sell their automata. Available exclusively from Fortnum's, those set to go into production include'The Luminous Feast', a beautiful table decoration with tea lights driven by cogs, and The Egg Topper.