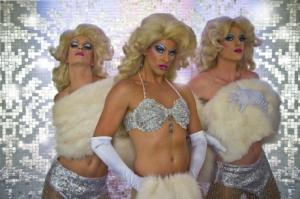 Supper club, bar and restaurant, The Brickhouse announces the arrival of The Globe Girls, a stunning musical spectacle, this August Friday 21st and Saturday 22nd.
This collection of drag queens is guaranteed to delight, offering an unforgettable visual and musical feast that is truly unforgettable. Sporting a host of incredible wigs and costumes The Globe Girls will perform songs from all eras while guests enjoy dinner or drinks at one of East London's new establishments.
Head Chef Matthew Reuther has created a good value five course £25 set menu for diners to enjoy the modern British food whilst watching the performance. Guests start with Scallop with Provencal Vegetables and Basil, followed by Rabbit Terrine with Pistachio Nuts, Carrot Purée and Toasted Seed Bread. The main course is a delicious Hake with Olive and Basil Crust served with Broad Beans and Confit Cherry Tomatoes.
As the Globe Girls perform everything from Kylie to Abba, round off the perfect meal with an exquisite cheese selection from La Fromagerie, followed by an Earl Grey Crème Brulée with Milk Foam and Short Bread. Finish the evening watching the show and reclining on one of the eye-catching comfortable beds on the top floor.
For those who just want to have a drink and watch the show the bar offers an extensive range of bar snacks til 1am. Sit back in the modern and eclectic surroundings of The Brickhouse and enjoy the show while sipping a cocktail. The Globe Girls perform throughout the evening, with breaks in between each number for guests to talk and look forward to the next song.
The Globe Girls are as visually fabulous as they are funny, and they have a repertoire of over 50 different routines in many styles. They are all professional West End performers who can sing and dance to the highest standards and in their own uniquely glamorous way. Their costumes and wigs are handmade in Vegas and their shoes are designed for them by a couture shoemaker in Paris. The Girls have performed for Sir Elton John, Beyoncé, Eric Clapton and even The Royal Family.
Brighten up your evening with the sensational Globe Girls at The Brickhouse.
The Globe Girls will be performing on Friday 21st August and Saturday 22nd August
The Brickhouse
152c Brick Lane
E1 6RU
Tel: 020 7247 0005