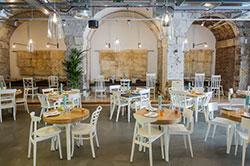 Veg-centred London restaurant Grain Store is hosting its annual Winter Feast this February 25th. Each season, Chef and owner Bruno Loubet invites various guests to aid him in creating a special one-off menu.
This year, Patrik Johansson from Sweden and Frank Hederman of Ireland join Loubet in the kitchen. Johansson is known as the'Butter Viking' and will be using his knowledge of artisanal, homemade butter to add pizzazz to the dishes.
Hederman meanwhile will be putting to use skills learned at Ireland's Belvelly Smoke House, the only authentic timber smoke house in Ireland. Expect masterfully executed smoked fish.
Tickets are priced at £49 per person and include a smoked wine cocktail on arrival and can be purchased by calling 020 7324 4466.