I'm gonna check out that chef, that's what I'm gonna do- by heading to Cinnamon Kitchen on selected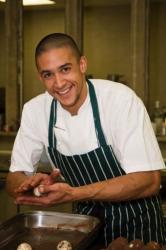 dates between now and June, when a trio of diverse chefs from across the UK will be taking on a one-night-only residency at the restaurant's tandoor grill.
Vivek Singh has laid down the gauntlet to three plucky chefs- the first of whom, The Pass' Matt Gillan, can breathe a sigh of relief- having already successfully dished up his four-course feast this week to a select group of 16 diners. In keeping with Cinnamon's house style, one course had to be Indian-inspired- and Matt duly delivered with curried Gressingham duck breast, braised leg, blackened onions and pink grapefruit.
On May 15th, Paul Foster from Tuddenham Mill is due to up the ante with his 'natural modern British' scran. His wild'n'wonderful menu aims to show off seasonal ingredients to best effect, and, with dishes including cauliflower, hazelnut and chickweed; salmon, asparagus, mugwort juice and rhubarb; tandoor lamb rump, fennel, quinoa and yoghurt; and whipped sea buckthorn, crispy rice and burnt meringue, he's sure to pique palative interest in the most discerning of diners.
Chris Lee from The Bildeston Crown has a hard act to follow, then, on 12th June. But having had accolades including The Good Food Guide's 'best up-and-coming chef' bestowed upon him, he's a worthy competitor. Cumin-roasted scallops, smoked eel, carrot and cardamom; artichoke fondant, pickled walnuts and Suffolk Blue cheese; fillet of beef, braised shin and kidney pudding; and tropical trifle and pineapple spring roll display a chef fond of 'British dishes with a twist'.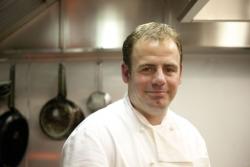 So if you're in the market for some good grub, a bit of open-kitchen ogling and the chance to witness a chef out of their comfort zone, you could do worse than snag yourself a ticket to one of the remaining events. It's getting warm in Vivek's kitchen, boys- here's hoping you can stand the heat.
Cinnamon Kitchen, 9 Devonshire Square, London EC2M 4YL
For more on the guest residencies and for tickets priced at £40, visit www.cinnamon-kitchen.com