360 North End Road,
 Fulham, London, SW6 1LY www.cocktavern.co.uk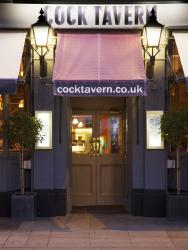 With about 16 pub closures a week (eight in the suburbs, six in rural locations and two on the high street, according to CAMRA, the Campaign for Real Ale), pubs are having to put more thought into what they should offer, to draw in customers for whom a period building with a swinging sign outside is not their social haunt of choice.
And I don't mean by going gastro, as in cramming the place with so-called shabby-chic mismatched tables and chairs, oversized mirrors on every inch of wall, and a get-it-everywhere bought-in menu of fishcakes, pork belly and risotto. Nor do I mean pubs which install highly-commended chefs but daren't call themselves restaurants.
I mean pubs, real pubs – somewhere to eat while you drink, not drink while you eat (an important distinction) and drink and eat as we do now. An inspired menu, small plates ordered as you want more, well-cooked dishes plus good beer (it's a Young's pub), a decent wine list – while sitting in comfort, whatever comfort means for you.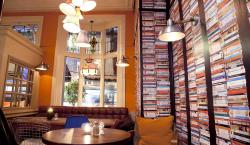 Round from the front door, in high-backed leather armchairs beside the window, a couple sat talking intently, him on a deliciously dark brew, her on red wine. Another couple – younger, edgier – sat on tall stools at a sophisticated metal strip of a table, drinking Gs&Ts, doing the crossword together. Two twenty-something women sat beyond them, chit-chatting against a backdrop of fake-books wallpaper that mimicks the cosiness of a library, a bottle of white wine between them. Beside the fireplace, a group of four guys were talking football or cars or amazing world records – or whatever it is men talk about when left to themselves with full pint glasses. To our left, two well-dressed-down men played darts.
We sank into squishy leather seats in a booth and started our stomach and palate satisfying evening with a bottle of Rioja and a bowl brimming over with nuts. Peanuts, cashews, pecans, almonds – salty, old-fashioned, no-frills nuts. They are back, I've noticed, after years in exile due to misplaced gentility. Yes, I know they are make-you-drink-more-money-spinners – this is a pub; you are supposed to be drinking. And they go well with the drink.
We could have had starters and mains (the house special, cock in cyder, served with chips and allotment salad, and the higgledy pie were seriously tempting) but chose to graze – it is, after all, the now way of eating while you are drinking.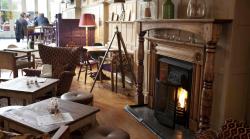 Goats cheese quiche – a whole baby quiche, so much more appealing than a slice – was generously goaty, its salty richness softened by a smidgeon of sweetly sharp balsamic onions. Highland mussels marinière were gloriously decadent, mostly because they came à la crème. No matter, the sauce was rich and smooth with a good balance of sweet garlicky cream and salty shallots; I scooped it all up with a mussel shell, leaving not a drop. Sliders (that peculiar American term for very small burgers) were moist, pepped up by Denhay cheddar and a Bloody Mary relish. 'Cute, cute, cute," I wrote about the Tremendous Toad in the Hole – a single sausage poking out of the batter, baked in a miniature loaf tin. The sausage was good, very good; the onion gravy thick and rich – and plenty of it. We loved the earthy honey-roasted carrots and parsnips – a step along the way to our five a day. Our one criticism was that the salt and pepper squid, though perfectly cooked, light, soft and enlivened by a spray of lime, needed a bit more chilli.
Puds were huge. Enormous. A not-too-sweet sticky toffee pudding, served with a generous dollop of clotted cream (my preference over the caramel ice cream), and a compellingly moreish bread and butter pudding with drunken prunes, cooked in a vanilla-rich custard, rounded-off the meal – and rounded-off us.
Surprisingly, the music deserves a special mention. Played at just the right volume to provide interest not noise, it was a well-mixed selection of rock, rhythm and blues, soul and a hint of disco – we identified The Beatles, Dusty Springfield, Amy Winehouse, The Rolling Stones and Rita Coolidge, but only out of curiosity; mostly it was there, increasing the feel-goodness of our surroundings. There's live music on Fridays. And a pub quiz on Sundays.
Drawing on Dolly Parton's self-parodying comment, 'it takes a lot of money to look this cheap", it takes a lot of calculated planning to create a space and an atmosphere without them seeming in the least bit contrived. Even the tiny touches – mini clothes pegs holding the menu, a phone in the booth from which we could make our order (we chose to speak face-to-face with our friendly, efficient waitress), church candles not tea-lights, the reserved sign balanced on a mini-easel – were quirky enough not to fall into the cliché category. Very cleverly, but without seeming so, the Cock Tavern has reinvented the pub.