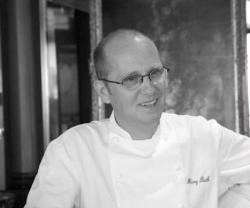 The dining equivalent of train spotters will be charging their digital cameras and powering up their Tweetdecks with the news that Heinz Beck is to open a new restaurant in the Lanesborough on Hyde Park Corner in September.
This will be the first restaurant outside Italy to be created by internationally renowned Beck who holder of 3 Michelin stars at La Pergola in Rome.
Now 45, Heinz Beck has been cooking since he was 16, initially in his native Germany, and opened La Pergola in Rome's Hllton in 1994. The stars started coming soon after and the third arrived in 2005 and he's kept that constellation ever since. It was and is the restaurant to be seen in and one that is endlessly talked about.
Launching at the start of September, Apsleys – A Heinz Beck restaurant will be overseen by Beck and his hand picked brigade of chefs, the majority of whom are Italian and many of which have worked under Beck for many years. The restaurant's Executive Chef, and the man responsible for ensuring the quality and consistency of Beck's menu will be Massimiliano Blasone, who until recently was the executive chef at the restaurant of Castello Banfi, the Tuscan estate producing Brunello di Montalcino wine.
As Beck has said of his cooking, it is 'light cuisine of Mediterranean flavours", he is concerned with keeping dishes healthy and as approachable as they are exciting and his menu for The Lanesborough will reflect this. The menu will be traditionally Italian with antipasti, soup, pasta, meat and fish main courses as well as desserts. Starter dishes such as 'Seabass Cannolo with celery and melon' are priced from £14, and pasta dishes including 'Rabbit Ravioli with asparagus and pistachio' and 'Gnocchi with a shellfish broth' are priced from £13.50. Main courses such as 'Black cod with chickpeas' and 'Slow braised veal cheek with apple puree and Jerusalem artichokes' are priced from £19, and desserts from £8. There will also be a 'Menu del Giorno' available at lunch with three courses priced at £26. Finally, Beck has created a seven course 'Menu Degustazione' available at £75 per head.
The dining room, created last year, haa been designed by the world-renowned Tihany Design company, founded by Adam D Tihany. The company has been responsible for the design of some of the world's most famous restaurants including Le Cirque, Jean-Georges and Per Se in New York and The French Laundry in California.
The Lanesborough
Hyde Park Corner
London
SW1X 7TA
0207-2595599