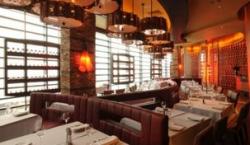 The Meat & Wine Co is delighted to announce that its recently launched wine club, The Meet & Wine Club, will be holding it's third meeting Tuesday 1st September 2009. CALL MY BLUFF MR CHANCELLOR will be the evening's theme.
Given the current climate everyone is looking at ways to economise. This event is all about buying value for money wines. Our experts will guide you through this potential minefield, revealing that it's not all about heading straight for the cheapest on the shelf, but being adventurous. They'll also be challenging you to tell the difference between a selection of vin ordinaire and vintage. And any pupil who achieves full marks will be entered into a draw to win a wine hamper. Accompanying the taste test will be platters of delicious canapés.
The Meet & Wine Club is the latest initiative from the Westfield London-based restaurant that has quickly built up an unrivalled reputation, not just for its extensive range of great international wines, but for its innovative fare.
Can't tell your Pinotage from your Pinot Noir? Or do you pride yourself on being a bit of a Premier Cru? In either case, The Meet & Wine Club is for you!
Offering a potent mix of fine wines, great food and insider knowledge, the club will host entertaining and informative monthly events on the first Tuesday of every month.
These soirées will be perfect for those who want to learn more about wine in a relaxed and convivial atmosphere.
The events scheduled to date are as follows:
CALL MY BLUFF MR CHANCELLOR (1st September 2009)
Price: £20 per person
WINE MAKER'S DINER (6th October 2009)
Price: TBC
November/December: watch this space for upcoming events.
The Meat & Wine Company is situated in Westfield London's Southern Terrace, a vibrant south-facing, pedestrianised street adjacent to the covered mall.
The Meat & Wine Co is also delighted to announce its support for The Nelson Mandela Children's Fund.
The Meat & Wine Co has pledged to donate £1.00 from a selection of menu items on both its à la carte and children's menus. It has also added a number of special dishes to its offering, including Madiba Malva Pudding, based on the traditional South African baked dessert, with a percentage of the proceeds going to the fund.