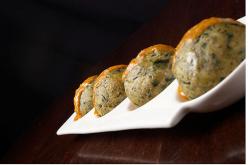 In a TV commercial a few years back a grumpy old lady bitterly complained that her local bank branch had been turned into 'a trendy wine bar'. Well here around Threadneedle Street there's hardly a bank branch left that isn't now a restaurant or bar and while Mint Leaf may be the only 'Indian' it is rather trendy.
Stripped of their 70's and 80's suspended ceilings and screened counters these old banks reveal their true architecture and purpose. Cathedrals of money, designed to make the customer/supplicant feel dwarfed by the mighty power on display. The great mock Doric columns rise to lofty ceilings, and the large windows should really feature stain-glassed representations of holy Victorian bankers.
Mint Leaf has fought this inbuilt ambience well with a long and colourful backlit bar decked out with just about every drink on the planet and the effect is sunny and welcoming as you come in still deaf from the endless gas main repairs going on nearby. Staff are good looking, smartly turned out and you almost don't mind paying the service charge to have your drink conveyed a few feet from bar to seating area.
Of course local customers aren't short of a few quid and prices here reflect that, but even so there is a daily set lunch menu at around £15 for three courses and the cooking under the sharp and talented eye of chef is finely honed. Seated under a giant statue made of bronze and apparently for sale, (how would we get it home, in the company JCB perhaps?) you get an a la carte menu that is sensibly short, sharp and seasonal. As chef tells me later as he wanders the room, he wants the kitchen staff to be able to cook the week's menu perfectly and that means letting them focus, not spread attention across a pointless plethora of dishes.
Mackerel and crab cakes are delightful, a delicate mix of white and brown crab meat well partnered with that underrated and happily sustainable British fish. The dish is made of three golden patties, contra-textured with sweet dice of red onion and tomatoes, while under each is pooled a vibrant yellow mustard mayonnaise that has only a breath of heat. Kaffir lime chicken tikka is flecked with fresh green herbs and supported by sprouted moong lentils that have moist crunch. Apple chutney sneaks in some sweetness at the end. Both are elegant, artfully presented and subtle starters with not a poppadom in sight.
I love pork belly even though, like a Bounty Bar, it's often the gift that keeps on giving unless you have seamless teeth. Here it's braised to melting perfection, placed on top of silkily spicy potatoes and then a moist, flavour filled grilled pork chop balanced on top. The vindaloo sauce is separate on the plate allowing you to dab just as much or as little as you want on to each forkful. This works beautifully. I'm not so sure about the Malabar chicken stew in coconut cream and curry leaf sauce though, only because it looks well, too white basically. I don't eat it, but I'm told it is a bit mild but well flavoured. I reckon it's authentic and just a bad choice for someone who has been known to use harissa as ketchup. The basket breads are good, all kinds and of varying textures with a waft of the tandoor, not the microwave.
Dessert of creme brulee, with a hint of cardamom was no more, nor less than that and a weakish point in an overall very strong and elegant performance. With its classy, contemporary Indian cuisine, a big buzzy bar with snacks from the kitchen, Mint Leaf is an oasis in the area and makes Brick Lane seem a (sub) continent, rather than a few streets, away. Should I say you can 'bank' on it? Yes, why not?