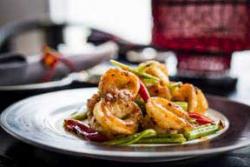 To celebrate the traditional Chinese'Double Fifth' Dragon Boat Festival on the 2nd June, award winning restaurant Hutong located in The Shard, will be offering a special menu of five dishes from five different regional Chinese culinary traditions.
The boat races during the festival are symbolic of the attempt to rescue the patriotic poet Chu Yuan who drowned on the fifth day of the fifth lunar month in 277 B.C. Originally the Chinese would throw bamboo leaves filled with cooked rice into the water so that the fish could eat the rice rather than the poet, a tradition which is now celebrated by eating tzungtzu and rice dumplings.
Hutong's Double Fifth menu will be priced at £55, and will include customary dishes such as spicy abalone and seafood salad from the Dongbei region; Ma La chilli prawns and braised beef in aged vinegar and ginger with pumpkin mash from the Sichuan region. For dessert, traditional sweet zongzi dumplings of steamed sweet glutinous rice dumplings with red bean paste wrapped in bamboo leaves will be served. 
Hutong will also be offering a platter of zongzi dumplings, including golden sesame dumplings filled with apple paste and cinnamon and mango pancake rolls, priced at £12 per platter. Both menus will be available 27th May – 2nd June.