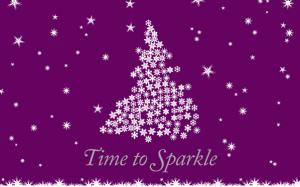 So it's started already… tins of chocolate and Christmas tat in the shops and those dreadful adverts on the tellybox for nasty sofas and grim carpets – order now for Christmas! – bah, humbug.
But okay, for bars and restaurants, October is pretty crucial for generating the business that party loving workers can provide and recently Tompkins, part of the Inc Group, opened their doors to give a taste of the goodies on offer during the festive period. So, along we went to this fairly new bar/restaurant close to South Quay station in Canary Wharf. It's a nice space, with a crisp, sophisticated dining area, a bar with a more casual 'L' shaped area, and a mezzanine that serves as a separate seating area, or can be used for private parties.
On arrival, we were greeted with a choice of Colombard, Rioja or beer. White wine seemed like a good way to start the evening and it was a good choice, nicely chilled, crisp and refreshing. We tried the Rioja later, which was also good, with a great depth of flavour. Both wines slipped down very easily.
Mainly to get away from the hubbub, Sue and I wandered up to the mezzanine and found a pair of comfortable chairs where we could relax, chat and do a bit of people-watching. It wasn't long before the canapes started to appear. First up was salmon mousse and what a way to start; the mousse had a bracing hit of smoked salmon, but was cool and light. Steak tartare was served on a small crostini, and seemed to have been lightly marinated in citrus, which had started to cook the meat, but the flavour was pure steak, and very good indeed.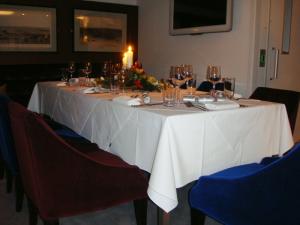 Sue is vegetarian and at first there wasn't much that she could have, but our charming waiter said that he would get something for her and true to his word, returned with some tomato tarts; delicate little pastry pillows, topped with a slender slice of tomato and a little puddle of olive oil. It was nicely cooked, and delicately flavoured, if a little safe. And more veggie goodies, in the shape of parsnip and pear soup which had a gorgeous velvety texture and a subtle root vegetable taste with a hint of sweetness coming through.
Then came crab parcels, sweet crab meat in a rich pastry, the mix of texture and flavours was really good. I would be very happy to have it as a starter. A fillet of sea bass, perfectly cooked, sat upon a puddle of creamy mashed potato accompanied by a lightly caramelised silverskin onion, was another very tasty dish. I then tucked into a dish of warm pork with white beans. The pork – gammon really – in rough chunks and packed with flavour, while the beans gave this dish real substance, a simple, but hearty dish, perfect for a chilly evening.
Then our waiter came up trumps for Sue again, with a celeriac tart on a bed of spinach. It was good, the earthiness of the celeriac coming through well, balancing nicely against the bitterness of the spinach. Next up – and this shouldn't have been a surprise – was a mini-Christmas dinner; a medallion of turkey, chipolata wrapped in bacon, a disc of sage and onion stuffing, a quenelle-shaped roast potato and – joy! – a brussels sprout. All the elements were nicely cooked, and certainly augers well for their traditional Christmas main course.
At this point, desserts were coming around, but sadly we couldn't stay and waddled off into the evening.
I understand that Tompkins will be offering their Christmas menus from the third week in November, and based on what we enjoyed at the preview, it promises to be good food, well cooked and competitively priced. If you haven't found your Christmas party venue yet, Tompkins is definitely one to consider – and even if you have, it's worth a visit anyway.
For information about locations, go to www.greenwich-inc.com and about Tompkins www.tompkins.uk.com