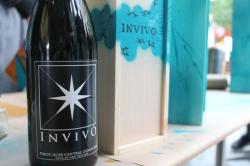 Invivo, a premium New Zealand winery, launched its range of wines in London this week. The company was founded in 2007 by Tim Lightbourne and Rob Cameron who look after the marketing and winemaking respectively.
The selection of award winning wines from Invivo, made in Marlborough and Central Otago, include a Marlborough Sauvignon Blanc, Pinot Noir and a low calorie and low alcohol Marlborough Sauvignon Blanc.
The company sponsors various art movements and have decided to launch their display in Harvey Nichols with grafitti wine boxes by Da Wild Stallions, grafitti artists based in East London. They are also available at selected wine merchants.
For more information, visit www.invivowines.com