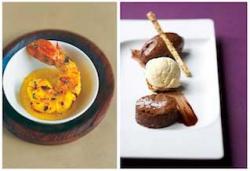 On Friday 21st November, The Cinnamon Club will host an exclusive five-course dinner paired with a selection of Italy's rarest wines from the Mastroberardino winery.
Set against the book-lined shelves of the Grade II-listed former Old Westminster Library, the ticketed evening will showcase some of the finest wines from altitude vineyards located in the ancient city of Pompeii, one of the most esteemed wine regions of Italy.
Hosted by Piero Mastroberardino whose family has been producing wine in the Campania region for more than 11 generations, guests will have the opportunity to taste wines at a selling price of £400 per bottle, alongside a delectable menu from head chef Rakesh Ravindran, which carefully balances the fruit, minerality and acidity of the wines.
Piero is considered a Master of the Taurasi grapes and his most prestigious Taurasi Radici 1998, which will be served on the evening, isundoubtedly the greatest name in the Mastroberardino winery.
Characterised by strong earthy flavours and roman winemaking techniques, the Villa dei Misteri, with only 1500 bottles produced every year, and vintage white wines including the Greco di Tuffo and theTaurasi Radici, will give guests the opportunity to sample the rare ancient grape flavours, which have been brought over from the estates directly, meaning guaranteed provenance.
With wine pairings selected and presented by The Cinnamon Club's Wine Expert Laurent Chaniac, alongside Piero himself, highlights of the dinner include:
Tandoori king prawns with mace and cardamom
Falanghina Morabianca Irpinia DOC 2013
Roast loin of Oisin red deer with sesame tamarind sauce, pilau rice
Radici Taurasi Riserva DOCG 1998
Original Beans chocolate and star anise tart with spiced plum sauce
Antheres Irpinia Aglianico Passito DOC 2010
Tickets to this exclusive one-off event cost £160 per person, with the evening commencing from 6.30pm. Places are expected to fill up quickly, so don't leave it to the last minute to reserve your seat. To book, please email events@cinnamonclub.com or call restaurant reservations directly on 020 7222 2555.
The Cinnamon Club, The Old Westminster Library, 30-32 Great Smith Street,
London SW1P 3BU
www.cinnamonclub.com  @CinnamonClub