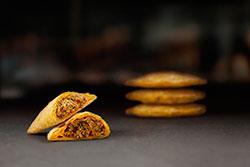 Caribbean food is getting ever more popular in the Capital. We recently reviewed the new Carnaby branch of The Rum Kitchen and now Covent Garden is set to get a taste of the Caribbean as new restaurant Jamaica Patty Co is opening on 22nd March.
Founded by Theresa Roberts and headed up by Executive Chef Collin Brown, Jamaica Patty Co will specialise in freshly baked Jamaican patties, not burger patties in this context but something resembling Cornish pasties. We're sure they'll live up to expectations, as Brown was twice voted Caribbean Chef of the Year. Patty fillings include jerk chicken, prawn, curried goat and saltfish and ackee.
Aside from the patties, patrons can expect to find Blue Mountain Coffee, long acknowledged by coffee connoisseurs to be one of the finest coffees available, and the traditional Jamaican sweet treat of Tortuga rum cake.
Contemporary and accessible, Jamaica Patty Co aims to redefine Londoners' knowledge of Carrribean food, and we look forward to trying it out.
22 New Row, Covent Garden, London WC2N 4LA