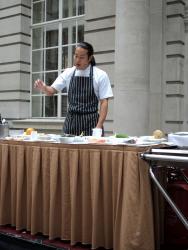 The courtyard of the Chancery Court Hotel, in London's High Holborn is an impressive place, it opens out before you as you enter through a rather grand archway, the architecture revealed in all its glory. The Chancery Court Hotel is home to Jun Tanaka's excellent Pearl Restaurant and Bar but we were here on this occasion for the first of his three Summer Seafood Barbecues.
We'd arrived to a glass of Veuve Clicquot Yellow Label Champagne, to sip before and during the demonstration, and pretty soon after Jun Tanaka was setting about the creation of five 'simple' dishes, in his words. They were: scallops baked in the shell with lime, chilli and yuzu; rosemary-smoked mackerel with horseradish crème fraiche; blackened spiced salmon with cucumber and yoghurt dressing; red mullet 'en papillote' with chorizo, paprika and baby cherry tomatoes and mussels 'en papillote' with wine and herbs.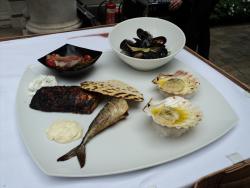 When I think of barbecues, images of burnt offerings come to mind – or trying to avoid them – in the garden with friends, rather than in such grand surroundings, but the centre of this courtyard, which had been closed off for the demonstration and the lunch that followed, made a great stage for Jun Tanaka to strut his stuff in creating those five dishes in front of us, all in the space of an hour.
Jun had invited us to ask questions as he cooked, so his having mentioned that he had 'brined' the salmon before cooking, I asked him how he did that. He explained that he made a solution using 10% salt and 2% sugar to the volume of water, which he said also works well with meats like chicken, adding that if you were to brine a whole chicken you should do so for 24 hours before cooking and this will tenderise it beautifully. And as for the simplicity of the dishes, yes, Jun was right, they were quite straightforward, all you need is a little confidence and the 'know how', oh and some decent weather wouldn't go amiss. I'll certainly try a few at home when the opportunity arises.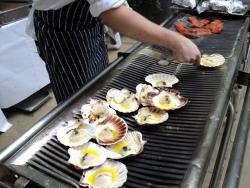 During the demonstration Jun Tanaka's team from Pearl were cooking up the same dishes to one side of the courtyard for our lunch, there was seating nearby which made the perfect setting to sit and enjoy those dishes while taking in the surroundings, after the demonstration.We were able to taste all of the dishes that Jun had created in front of us, together with a range of interesting salads.
The red mullet was sweet and given great flavour by the chorizo, the salmon flaky with some good spiciness, the mackerel was perfumed by the rosemary smoke rather than deeply flavoured and the scallops deliciously sweet if given a hint of heat from their lime chilli and yuzu bath. All were very good and we supported our meal with a nice crisp Sauvignon Blanc, which worked very well.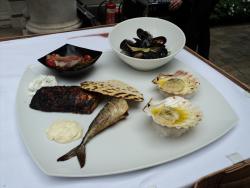 There are two further summer barbecues planned, 31 July and 7 August each running from 12.30pm to 4.00pm. For anyone interested in cooking fish al fresco and learning some interesting barbecuing techniques, or being inspired to cook something other than burgers on their barbecue they're ideal. It's also a great way to relax on a Sunday afternoon, watch, learn and sample the end results, Jun Tanaka has a very easy style about him and explained what he was doing very clearly.
We'd also heard that the bar at Pearl had created a range of salad cocktails for the summer, so while we were there we each decided to try one. The Greek was an interesting fusion of gin with tomato consommé, fresh tomato and cucumber ice cubes that was served with feta cheese and olive on a stick, a lovely savoury drink. The other was The Thai, made with chilli infused cachaça fresh mango, papaya, lime and palm sugar syrup and served with a fine Thai noodle salad and crushed peanuts, the heat from the chilli infused cachaça balanced marvellously with the fruit juices in the cocktail, it was excellent.
Tickets for each of these Sunday events are £45 and this includes a glass of Champagne, the seafood demonstration and lunch. Spaces for the demonstrations are limited, so if you would like to attend one you should book early to avoid disappointment. To book into one simply call 020 7829 7000 or you can e-mail to register your interest or having booked into a demonstration to forward on a question for Jun ahead of it.
For more information about the restaurant go to the Pearl website, you can also read our review of Pearl and there are several other related articles on site.
Chancery Court Hotel, 252 High Holborn, London WC1V 7EN