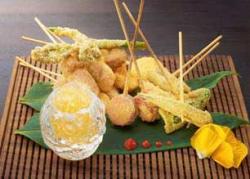 Kirin Ichiban, Japan's Prime Brew has announced the launch of their 'pop-up" Yatai in conjunction with the head chefs of London's Japanese restaurant Yashin sushi & bar and their Kushiage style restaurant set to launch in 2012.
The Kirin Ichiban Yatai will 'pop up" for one week only, August 3rd – 8th near Brick Lane and will serve up a selection of quality, traditional KUSHIAGE dishes which are relatively unknown in the UK; Japanese deep -fried skewer delicacies which will be available *with a bottle of crisp Kirin beer for around just £5, bringing affordable quality food and drink to the streets.
Yasuhiro Mineno (ex head chef of Nobu) and Shinya Ikeda, joint owners and Head Chef of Yashin sushi & bar and founders of yet to be opened Kushiage style restaurant in Central London in early 2012 have worked carefully with Kirin Ichiban to create a market style menu offering Londoners some authentic flavours and delights from their Japanese street menu. Diners will also be able to vote for their favourite short film, from four finalists to the Kirin First Cut short film competition, the winner of which will be announced at the 55th BFI London Short film festival in partnership with American Express (12th-27th October).
Customers can choose from selection of three Kushiage deep-fried skewer dishes served on bamboo sticks and a bottle of beer for around five pounds. Food and drink enthusiasts can choose from over ten combinations including; pork with Japanese Worcester sauce, marinated lamb with saikyo miso, asparagus with sea salt and lemon, pickled tomato and slightly hot green pepper with lemon to name a few.
The pop up Kirin Yatai will also be showing finalists work from the Kirin First Cut film competition bringing together the old traditions of Japan with the new creativity and technology of short films.
To make a reservation at the Kirin Yatai pop up restaurant visit www.kirinfirstcut.co.uk
Bookings will be confirmed from July 2011. Timings Wednesday – Saturday 12pm – 11pm, Sunday – Monday 12pm – 9.00pm
*free beer included when reservation is made online