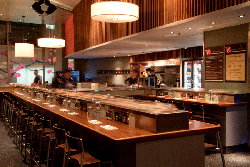 They say some restaurants have a conveyor belt mentality – customers in and customers out. Well K10 are proud to have a real conveyor belt.This contemporary'kaiten' Japanese restaurant K10 serves up Japanese food and is now set to expand with the launch of a second, larger restaurant on nearby Appold Street at the end of the month.
Like its Copthall Avenue sibling – one of London's better 'kaiten' (conveyor belt) restaurants- the new outpost will offer more of the successful formula: traditional Japanese cooking with a contemporary twist.
There's a variety of both traditional and modern Japanese dishes all colour-coded and ranging in price from £2 to £5.50 with the occasional special at £7.50.
The chefs at K10 have combined flavours and textures and the range promises to be extensive – from the salmon sashimi to seared sesame tuna served with a miso and mustard vinaigrette.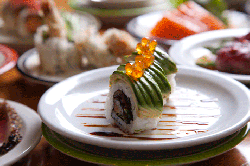 K10 also offers a variety of katsu curries, chicken and salmon teriyaki served 3 ways, gyoza, crispy chicken karage, tempura and chilli baby squid. Fresh salads and home-made desserts like the refreshing and light green tea mousse, complete the line-up.
Something off menu? K10 is apparently willing to prepare any bespoke dish, if the ingredients are available. It also has a "try before you buy" policy, which allows diners to taste a dish and if they don't like it, they won't be charged for it. Could be open to abuse!
They will also have a take away unit serving a selection of freshly made, restaurant quality hot dishes, as well as a variety of sushi and sashimi sets.
K10 Appold Street will open Monday to Friday from 11.30am until 3pm and from 5.30pm until 9.30pm.
3 Appold Street, Broadgate, London, EC2A 2AF