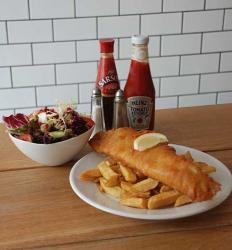 Kerbisher & Maltis opening its 4th site this week in Abbeville Road, Clapham joining Bistro Union, The Ginger Pig and the Abbeville Kitchen in a top foodie area.
The doors open on Thursday with a 25% offer in its soft opening week, which ends on June 5th when they'll run the standard menu.
Like its sister restaurants, the focus is on a range of fresh, sustainably sourced fish which can be battered, crumbed in matzo meal or simply grilled as well as twice-fried chips. The new venue offers a menu of both traditional and modern dishes, from calamari, whitebait, half-pints of prawns to fish finger butties, mushy peas and pickled onion rings.
Also on the menu are non-fish dishes, like fresh pork sausages and K&M's spicy veg bites. The drinks list includes Meantime's range of beers, a selection of wines and classic soft drinks such as Fentiman's Dandelion & Burdock.  They have children's menu featuring freshly made fish fingers and fish bites – as well as Jude's ice-creams.
Kerbisher & Malt, 50 Abbeville Road, London, SW4 9NF