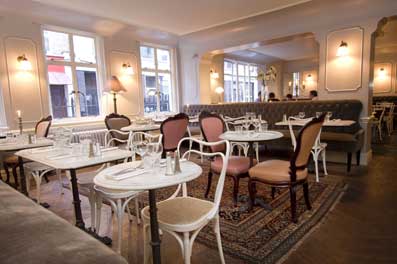 When Kettner's, one of London's oldest and best-loved restaurants reopened in November 2008, its many loyal patrons rejoiced as the legendary destination Champagne bar was restored to pride of place with a fabulous brand new look by international über-designer, Ilse Crawford.
Kettner's Champagne Bar, a favourite hangout of in-the-know Soho drinkers, has long been at the heart of the landmark Georgian building on Romilly Street. Along with its dashing 21st Century makeover, the Champagne Bar also now boasts an impressive new Champagne list, created by wine guru Nigel Sutcliffe.
The list offers a vast selection of champagnes and sparkling wines from small growers, grand maisons and even English vineyards. The house list now comprises a by the glass or bottle selection featuring one small producer, one iconic Champagne and 'something from England'. Thus one can have Gallimard's non vintage (£8.75/£40), Cuvée Prestige 1999 (£9.75/£47) or Reserve Rosé (£9.25/£45), Louis Roederer Brut Premier (£13.75/£68) or Cristal (£60/£320), and Nyetimber Classic Cuvée 2001 (£11.75/£58).
'Everyone has a preconceived idea of what Champagne should taste like," comments Nigel. 'In fact, there are many different styles according to the blend of grapes, the location of the vineyards and the method of vinification."
'Much Champagne rests on its laurels. Many estates are now under the umbrella of huge corporations endeavouring to create something utterly uniform. Marketing flimflam has replaced substance. We've chosen to list wines from the increasing number of small growers and families who have become disenchanted with the commercialisation of Champagne and are making wines sustainable, organically, or even bio dynamically – wines that reflect the 'terroir'. These wines are extraordinary, brilliant, pure, energetic and challenging."
As well as specialising in small family growers, The Champagne Bar lists many vintage Champagnes made in very limited quantities and offers exquisite wines from some of the world's most renowned champagne houses in an enviable range of formats. Particular highlights are a magnum of Dom Pérignon 1998 (£340), a Nebuchadnezzar of Bollinger Speciale Cuvée (£1,600) and Pol Roger Brut in seven sizes. There is also a choice of Champagne cocktails available in including Kettner's own – Calvados topped with Champagne garnished with a twist of orange and maraschino cherry. Cosy, private 'nooks' can be booked for small groups in the bar.
For the rest of the wine list, Nigel has created an exciting European list with a strong emphasis on small, artisan growers. Such so-called 'natural wines' are increasingly finding favour with discerning wine lovers who are rejecting bland, mass-produced wines in favour of more exciting, though not necessarily more expensive wines. It's what Nigel calls a 'diverse and democratic' list, featuring examples from lesser known regions such as Savoie and Jura, earthy country wines such as Marcillac and Freisa d'Asti, sitting happily alongside the fine wines of Bordeaux and Burgundy.
Explains Sutcliffe of his choices, 'I looked for wines capable of delivering as much pleasure – if not more – in the second or third glass as you get from the first. The list is organised by style, not by region or grape variety so people can discover wines similar to those that they normally like to drink, the idea being to discover something new. This is what I call a modern wine list, one that can help demystify what is otherwise essentially a catalogue of names that they might never have heard of."
Kettner's Champagne Bar opens seven days a week, from 11am to 1am Monday to Saturday and from 11am to 11.30pm on Sundays.
Kettner's Restaurant and Bar, 29 Romilly Street, Soho, London, W1D 5HP, 020 7734 6112, kettners.com