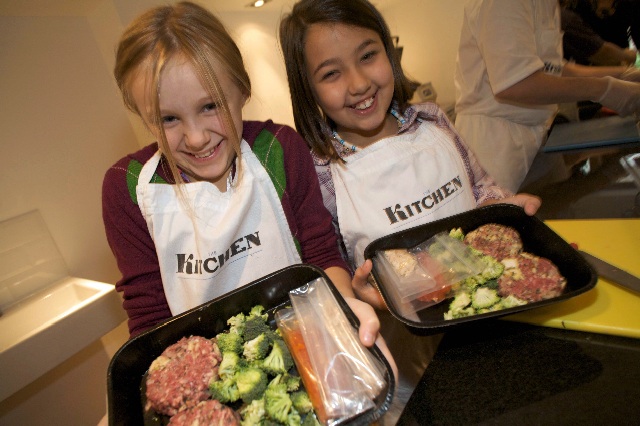 Since new retail food concept The Kitchen opened its doors in June 2008 it has captured the imagination of thousands of Londoners as the perfect meal creation business and the only place in the capital where one can create Michelin star meals, for the whole family, for less than £6 per head.
Its daily sessions, designed and led by Michelin Star chef Thierry Laborde, have provided myriad homes with the finest of gourmet meals and dinner party menus. And now, for the first time, they will be opening their doors to London's young cooks for a series of After School sessions.
Young Jamie's start here
Taking place every Monday from 4:45 – 6:00pm, for 10 weeks, the inspired course schedule, created by Thierry Laborde and Claudio Sandri, will include lessons in world cooking including Asian, Italian, French and Japanese dishes and an entire session will be devoted to creating a 3-course meal. Naturally the hoard of mini master chefs will then take home the fruits of their labour at the end of each session to impress (and feed) their parents!
The sessions will be fun, light hearted and unwittingly educational, allowing the food enthusiasts of tomorrow to make all the mess they want without having to clean up behind them.
Commenting on the new sessions owner Natalie from The Kitchen enthused:
'We are passionate about instilling an interest in food in children from a young age…children shouldn't be happy with the fish finger and chips kids menu, they should want to explore and learn about different foods, tastes and textures and how ingredients come together to make a meal. At our After School club they will learn about all kinds of cuisine from all over the world and we will send them home with a nutritious and delicious evening meal every time'.
Contact www.visitthekitchen.com or call 0207 736 8067
Times and dates
• Day: Mondays
• Time: 4.45 – 6.00pm
• Duration: 10 weeks
2. Monday January 19th : Bread making
3. Monday January 26th : 3 course meal
4. Monday February 2nd : Japanese day
5. Monday February 9th : Pasta making
Half term
6. Monday February 23rd: French day
7. Monday March 2nd: Italian day
8. Monday March 9th: Pastry making
9. Monday March 16th: Asian day
10. Monday March 23rd: Easter treats
• 10 places available for each session
• Ages 8 +
• Price: £20 per session / £180 for 10 week course.
• Each week, the child will bring home the food to be enjoyed
• Apron and chef's hat provided
• Certificate at the end of the course