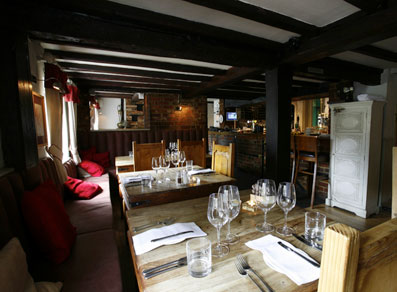 The Hand & Flowers pub and dining room in Marlow, one of the highest rated food pubs in the country, is introducing a fantastic value set lunch menu with 2-courses for just £10 and 3-courses for £13.50.
The introduction of the lunch menu, which will change weekly and is available Monday to Saturday, sees a return of some of the classic pub style dishes that helped establish The Hand & Flowers's reputation. There will be a choice of two starters, such as West Country pork pie with Piccalilli; or leek and chive velouté, two mains, which might include coq-au-vin; or cottage pie with braised savoy hearts, and two desserts, lemon posset; or tropical fruit pavlova.
"Since opening in 2005," says chef patron Tom Kerridge, "we've been continually evolving and many of the dishes on the à la carte have become quite refined. We're really excited about the lunch menu as not only does it offer exceptional value, which we're sure will be appreciated at the moment, but it also allows us to rediscover some of the traditional pub dishes, which we're really looking forward to serving."
Tom's à la carte menu will also be available and features regularly changing, hearty, British and French dishes. Ingredients are carefully sourced according to season – chicken and pork from Suffolk, oysters from Northern Ireland, vegetables from Covent Garden – and local suppliers are used where possible. Signatures include potted Dorset crab with brown bread, cucumber and dill chutney; and Denham Vale fillet steak with Hand & Flowers chips and Béarnaise sauce.
To accompany the food there is a well-annotated wine list of international bins with house choices starting from £16 a bottle, and a selection of real ales are also served.
The pub, housed in a Grade Two listed building, offers a friendly, welcoming environment – with its low beamed ceilings and open fire place making it the perfect refuge from the winter chill. It is divided into an informal area for drinking and eating, as well as a more sophisticated dining area with elegant candlesticks and glasses. There's also a terrace for al fresco drinking and dining in the summer.
The Hand & Flowers recently added luxurious B&B accommodation in two neighbouring properties, Flower Cottages. The four rooms, with huge canopy double beds, have been refurbished to a high standard with quirky design touches, and the ground floor rooms each have access to a
private garden, which have been fitted with Jacuzzis.
The Hand & Flowers, located at 126 West Street, Marlow, Bucks, is open daily for lunch between 12 noon and 2.30pm, and for dinner Monday to Saturday from 7pm with last orders at 9.30pm (10pm on Friday and Saturday). The new set lunch menu will be served Monday to Saturday.
For more information and reservations, call 01628 482277 or visit www.thehandandflowers.co.uk