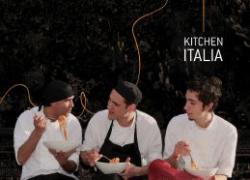 The new, stylish Kitchen Italia opens its doors to the heart of Covent Garden on Tuesday 8 December 2009, promising fresh, innovative, exciting Italian food
Situated on the cobbles of Earlham Street diners can look forward to a new destination that boasts it will provide an affordable, vibrant evening out in Covent Garden. Following the success of Kitchen Italia, Westfield, this contemporary approach to an all-day cantina offers great pasta in cool surroundings, without the expensive bill.
Perfect for those who know where to get the best "cheap eats" in town, the menu specialises in the many varieties of pasta native to specific Italian regions, each paired with the perfect sauce from light and zingy to rich and robust. The menu takes you on a journey across Italy, showcasing some dishes that prove their influence in world cooking such as Spaghetti with meatballs and Macaroni Cheese. Other dishes include Tiger prawn, chilli and garlic tagliolini and Pumpkin gnocchi with sage butter.
Open from 11am, you can Kitchen Italia's relaxed ambience whenever you fancy; whether it's for a quick bite pre or post theatre, or a more leisurely meal after a day hitting the shops or London's sights.
Customers can enjoy the stylish interior, an open, sports bench-style seating in light olive ash wood, smoked glass ceiling pendants from New York and glass globe table lamps will complete the intimate look, whilst cool 1950s jazz plays in the background will add the final touch for a relaxed experience.
Kitchen Italia, 41 Earlham Street, WC2 9LX Tel: 020 7632 9500 email: