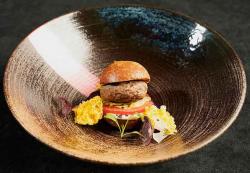 This Thursday 27th August is National Burger Day.
To celebrate, Sushisambawill be bringing back the kobe mini-burger for one day only. Priced at £6 it is one of the most affordable ways to enjoy kobe beef in the capital following Sushisamba's official recognition from the Japanese government in December 2014 as a purveyor of kobe beef.
The mini burger is a delicate combination of kobe beef, brioche bun, horseradish mayonnaise and aji amarillo.
Sushisamba London is open daily and on Thursday open from 11.30am – 2am. Reservations are available at www.sushisamba.com