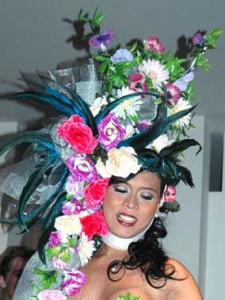 Fittingly hosted in the shadows ofthe old Queen's house, Buckingham Palace, 'Lady Boy' is an
annual gathering of glamorous girls fighting to be crowned queen in one of the UK's most unique beauty contests.
Showcasing fierce and fabulous Ladyboys from all over the world, this must-see event is taking place on 13th September 2009, 6pm till late, at London's celebrated fine-dining Thai restaurant, Mango Tree.
Lady Boy 2009 will see contestants unveil their talents in three rounds before a panel of VIP and celebrity judges. Starting with the 'creativity' category – imagination is the only limitation, as the teasing temptresses display their most avant-garde handmade outfits. The sensational sexy 'swimwear' round follows before 'evening dress' brings the competition to a closefitting climax.
For those not taking part, Lady Boy 2009 promises to be a most stimulating evening..Combiningthe competition with cabaret and canapés, courtesy of Mango Tree's talented kitchen, guests will truly by bowled over by the glitz and glamour of it all. The night ends with a DJ and dancing offering the chance for everyone to take centre stage.
Tickets to enjoy the show are £15 in advance, £18 on the doorincluding Mango Tree's incredible canapés.
To book contact the restaurant on 020 7823 1888

Mango Tree
46 Grosvenor Place, London, SW1X 7EQ