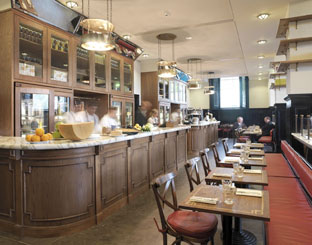 This May the National Gallery takes part in Museums at Night 2009 – a three-day celebration of British museums taking place between Friday 15 and Sunday 17 May where venues are open into the wee small hours. Open until midnight on 15 May, the National Gallery will be throwing open its doors to latecomers, making visits possible whatever your circumstances.
What's more, Oliver Peyton, author of The National Cookbook will be on hand to sign copies of his critically-acclaimed book at the Sainsbury's Wing shop between 6pm and 8pm. Visitors will be able to buy copies at the reduced price of £20 on the night (normally £25) and purchasers of the book will receive a complimentary glass of wine in the National Dining Rooms or the National Café.
The National Dining Rooms is also offering a superb set menu at two courses for £15 or 3 courses for £18.50 on 15 May only. Starters include a London Dry Gin Cured Salmon with Fennel, a main of Slow Braised Hardwick Lamb Shoulder with Cauliflower and Grilled Salad and dessert of Yorkshire Curd Tart with Drunken Raisins.
The National Cookbook explores the best in British seasonal ingredients and one of the greatest collections of European paintings. Details from 37 of the National Gallery's most famous works have been beautifully produced to accompany selected recipes and introduce each section of the book. A testimony to Peyton's passion for indigenous recipes and produce, The National Cookbook features over 100 recipes divided into Spring, Summer, Autumn and Winter.
Well known restaurauteur, Oliver Petyon, is a huge advocate of British food and an avid art collecotor. His restaurants, which include Inn the Park and Peyton & Byrne as well as the National Dining Rooms and National Café have been applauded as much for their food as their design. He currently appears as a judge on the BBC's 'Great British Menu' alongside Matthew Fort and Prue Leith.
The National Dining Room, Sainsbury Wing, The National Gallery, Trafalgar Square, London WC2N 5DN. Tel: 020 7747 5942
The National Café, East Wing, The National Gallery, Trafalgar Square, London WC2N 4DN. Tel: 020 7747 2525