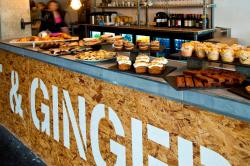 With a loyal following for their Soho Branch, Georgina and Quintin will launch their 70-seat cafe and artisan bakery inEast London on 3 April 2014.
The new café will follow the same industrial-chic design principles of  the Berwick Street site. The original 4m high exposed stone ceiling is enhanced by rows of black bell-shaped miner-esque lamps. Cakes and hand-made baked goods will adorn the counters.
The artisan café will also offer brunches, sourdough-based pizza, creative cocktails and coffee.  Every single ingredient will be freshly made in-house, with original recipes lovingly tweaked to perfection.
A non-stop, 24-hour bakery operation is in place to create the unique sourdough, which is based on a secret family formula and adds a deeper flavour to all of the baked goods.  The coveted sourdough bread, which is already supplied to a number of top London restaurants, will also be available to purchase in store.
Foxcroft & Ginger, 69-89 Mile End Road, E1 4TT