English summers may not be known for the heat but it doesn't mean that we can't enjoy the little s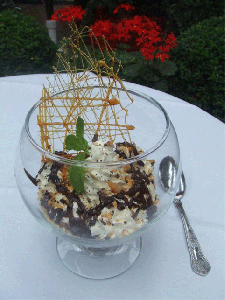 un we do have. For July and August only, you can enjoy a 'Coupes Breton" at Le Bouchon Breton in Old Spitalfields Market as part of its Le Palais du Glaces.
Imagine, generous ice cream coupes shared on the Breton terrace, just perfect for finishing an alfresco lunch or dinner or even to have on its own. At £6.50 each, it's not bad at all.
The French style delights come in a selection of flavours with delectable names such as 'chocolate and hazelnut liegois" (pictured), 'frozen Smith" and 'Neapolitana Glory".
To try one of these coupes, simply head to Le Bouchon Breton at 8 Horner Square, Old Spitalfields Market.
For the month of August, Wednesday to Saturday nights are also Jazz nights at Breton. Listen to classics performed by Mademoiselle Grace and her pianists Ben Parker and Fabian Faupel, from Edith Piaf to Serge Gainsbourg. We hear if it's French and has a tune, Mademoiselle will sing it. The Jazz nights will run every Wednesday to Saturday through August from 6pm until 9pm.