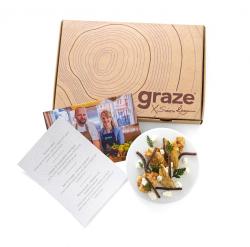 Combining techniques from the kitchen at Fera, Simon has created four unique Michelin-star-inspired snacks in a graze punnet format. 
The limited edition Simon Rogan x graze snacks, will be available exclusively toonly 100 people who enter a ballot online from 12th Nov. There's no cost to get one, just luck of the draw to get your hands on one pack from a very limited run.
graze X Simon Rogan snack boxes will include four exclusive recipes: 
           Grilled Salad: Cartmel-farmed cauliflower, kale, freeze-dried Isle of Mull         cheddar, garlic, chilli and sunflower seeds
West Coast of Scotland Lobster and Horseradish Styrofoam: Lobster puffs, horseradish styrofoam, beetroot, apple and tarragon
Salt and Vinegar British Corn-fed Chicken Popcorn: Crispy chicken skin with salt and vinegar half popped corn  
Mascarpone, raspberry and hazelnut biscuit : Freeze-dried mascarpone, raspberry strings, pear, hand-picked sweet cicely and hazelnut biscuit.
There are only 100 graze X Simon Rogan limited edition snack boxes available. To be in with a chance of winning a box, visit www.graze.com/simonrogan from 12th Nov – 22nd Nov to enter the ballot.
And see the video
{YOUTUBE:kggNfp0h2po}