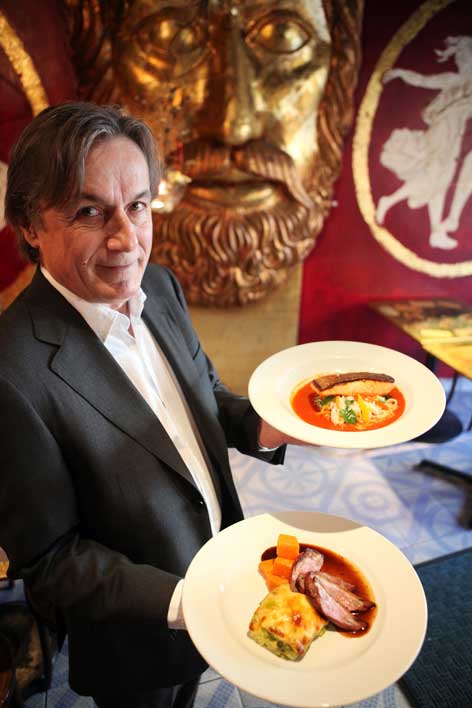 Seems they arent all grasping greed heads in the City. Little Bay has declared its 'Pay what you think it's worth' promotion a roaring success
Little Bay famously invited customers to pay what they thought their food and service was worth in February and the restaurant was fully booked for the whole month within five days of the promotion being announced, and could have been filled three times over based on enquiries; just under 10,000 customers came through the doors in February. Each customer paid on average £17.25 – nearly 30% higher than the average food spend of £13.50 at the Little Bay Farringdon restaurant.
Peter Ilic, owner, Little Bay, said: "I'll admit I was nervous about letting people pay whatever they like, especially in these tough economic times. But it has restored my faith in people's honesty. The average spend per head was higher than normal and we've had great feedback from a lot of new customers.'
'The most someone left was a hefty £40 per head, about £25 over our normal spend. Our lowest amount was a penny per person plus a £5 tip from two students who said they wanted to prove that the promotion was genuine.'
'Most surprising has been which new customers we've attracted. I'd say over half were City workers, both at lunchtime and after work with all the trouble in the markets at the moment, I guess even the big spenders are looking for a good value meal out right now.'
'Now we're in March, we're putting our prices back on the menus, we've already taken a lot of bookings for this month and I can categorically say the promotion has been a success, putting Little Bay's fresh, good value meals on the map for a lot of new customers.'
There are four Little Bay restaurants throughout London: Belsize Road, Kilburn NW6; York Road, Battersea SW11; Selsdon Road, Croydon, CR2; and Farringdon Road EC1.
Little Bay Farringdon sample menu
STARTERS
£2.25 noon ' 7pm; £3.25 after 7pm
Moules Mariniere-Steamed Moules with Shallots, Parsley, White Wine and Cream
Garlic Mushrooms-Red Pepper and Houmous Relish
Smoked Haddock Brandade-Leek and Potato soup with Caviar
Crab Tartelette-Saffron Cream Dressing and Mixed Leaf Salad
Oriental Duck Salad-Rice Noodles and Thai Dressing
Pressed Foie Gras Terrine-Brioche and Fig Compote
Goat Cheese Soufflé-Mixed Leaf Salad and Walnut
LIGHT DISHES
All £5.25
Cream Tagliatelle-Smoked Chicken and Monge Tout
Seafood Pancake-Mornay Sauce
Double Muffin-Smoked Salmon, Sour Cream and Danish Caviar
BURGERS
100% Aberdeen Angus Scotch Beef Burger
All £5.80
Classic-Lettuce, Tomato, Mayo and Relish
Smoked Cheese-Lettuce, Tomato, Mayo and Relish
Spicy Peppers and Houmous-Lettuce, Tomato, Avocado, Mayo and Relish
Foie Gras-Lettuce, Tomato, Mayo and Relish
MAIN COURSES
£5.25 noon – 7pm; £7.45 after 7pm
Whole Boned Poussin-Paprika Potatoes, Lentils and Peppercorn Sauce
Grilled Fillet Steak-Gratin Potatoes, Spinach and Mushroom Sauce
Breast of Duck-Sweet Potato, Creamed Leeks and Duck en Croute
Braised Pork Chop-Bean Sprouts and Savoy Cabbage
Paupiette of Salmon-Avocado and Tomato Salsa, Tomato Butter
Grilled Vegetable Tian-Organic Aduki Beans
Steamed Butter Fish-Mixed Mushrooms, Spinach and Cep Veloute
SIDE DISHES
All £2.25
Green Vegetables
Home Cut Chips Fried in Goose Fat
Buttered New Potatoes
Mixed Leaf Salad
DESSERTS
£2.25 noon – 7pm; £3.25 after 7pm
Apple Cake-Custard and Vanilla Ice Cream
Chocolate Bavaroise-Passion Fruit Cream and Almond Biscuit
Pistachio Crème Brûlée -Strawberry Ice Cream
Profiteroles-Banana Cream and Chocolate Sauce
Selection of Cheese & Biscuits