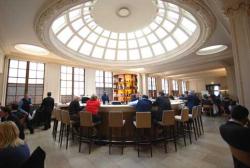 1 Lombard Street will open its brasserie for Saturday lunch and dinner from tomorrow 17 October.
Following numerous enquiries from customers, 1 Lombard Street will offer both set menus and a la carte offerings in its neo-classical grade two listed brasserie and bar, located opposite the Bank of England.
Herbert Berger, chef patron of 1 LombardStreet, said: 'We have hosted weekend events at 1 LombardStreet for years, but increasingly our customers havebeen saying that they often find themselves in the City on Saturdays, and what ashame it is that they can't visit us for lunch or dinner.
"When we first opened over 10 years ago, the City simply shut down at weekends. These days it is a really buzzing place that needs more quality places open for lunch. Saturdays should be day of relaxation and enjoyment, and I can't think of many better ways to relax than a good meal.'
1 Lombard Street will be offering lunch menus for £14.95 for two courses or £17.95 for three courses, along with a special five course menu for £19.50 that will beavailable at dinner time.
The brasserie will be open from 12.00pm on Saturdays, taking last orders at 10.00pm.
Guests to 1 Lombard Street on Saturday 17 October are invited to enjoy a complimentary cocktail to celebrate the new lunch and dinner opening.