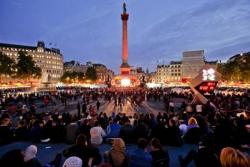 Central London turns into a vibrant and bustling taste of Malaysia on Friday October 4th as the sights, flavours and sounds of this truly unique country take over Trafalgar Square for the fourth annual Malaysia Night.
The much anticipated event celebrates the unique cultural destination of Malaysia and gives Londoners and visitors to the city the chance to experience the very best of Malaysian food, and immerse themselves in the delightful destination.
Over 20 of the UK's best Malaysian restaurants will showcase their authentic gastronomic delights for visitors to buy, from well-known favourite dishes including Satay, Laksa, Nasi Goreng and Beef Rendang through to more unusual ones such as Apam Balik, a sweet fluffy pancake filled with peanuts, sugar and sweetcorn.
Visitors can also enjoy a series of live cooking demonstrations taking place throughout the event by well-known chefs including Ian Pengelly of Pan Chai, to show Brits that cooking withMalaysian food is an easy and tasty option.
An authentic bustling Malaysian marketplace, offering ingredients such as sauces, spices and pastes for sale, gives Londoners the opportunity to recreate authentic tasting dishes at home.
Live entertainment will include a variety of artists, flown in from Malaysia especially for the occasion, along with more local talent. Visitors to the event will also be able to enjoy a very special art exhibition, showcasing some of the very best artists in Malaysia.
Increasingly a destination of choice for the traveller eager to experience for themselves foreign cultures with vibrant artistic and culinary traditions, Malaysia offers a whole array of new experiences to the British traveller.
The night is one of the highlights of the year-long Malaysia Kitchen Programme which aims to inspire British consumers to the world of Malaysian cuisine.
Exhibitors include: 20 of the UK's top Malaysian restaurants, MATRADE (Malaysia External Trade Development Corporation), Malaysia Airlines and Tourism Malaysia