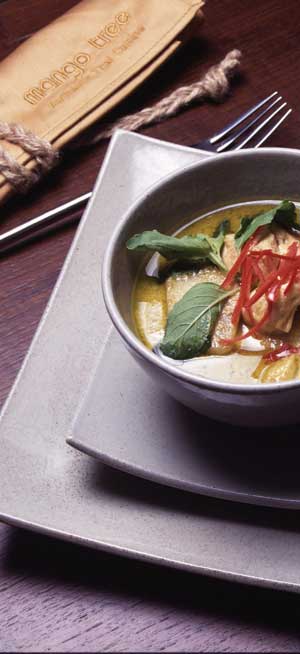 Banishing the bland, Belgravia's fine-dining Thai restaurant Mango Tree is going curry crazy to celebrate their most popular dish this March. Introducing a fiery fortnight of flavour from 9th – 22nd, diners can indulge in four new invigorating curries, courtesy of executive chef Mark Read.
With a cuisine historically influenced by Eastern and Western techniques, Thai food is a deliciously unique explosion of fresh tastes and textures. Sweet and sour, bitter and spicy, a host of culinary contrasts make Thai food a firm favourite, with all being showcased in Mango Tree's Curry Festival.
Known for an intense but short-lived kick, there has never been a better time to beat the craving and get a Thai Curry hit to remember.
gaeng som ma la-kor
spicy sour orange curry
with assorted seafood, green papaya, snake bean and Chinese cabbage
£12.50

gaeng liang
tiger prawn and white pepper curry
with babycorn, courgette, butternut squash and fragrant basil
£13.00

gaeong kiew warn pak
silken tofu green curry
with shredded young spinach, chickpeas, sliced green chilli and mixed
herbs
£12.00

gaeng pa nuer
jungle curry of beef short rib
with bamboo, aubergine, new potato and fresh peppercorns
£14.50
Mango Tree's Curry Festival will be available for lunch and dinner
from 9th – 22nd March 2009
46 Grosvenor Place, Belgravia, London SW1X 7EQ
t: 020 7823 1888 www.mangotree.org.uk