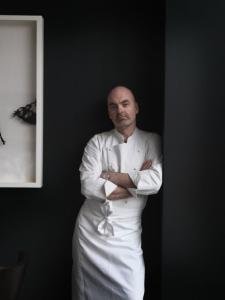 As part of a collaboration with the uber-successful The Loft Project, acclaimed Australian chef Mark Best will be cooking a very special degustation dinner at Bethnal Green's Town Hall.
On Thursday 16th September, the S.Pellegrino World's 50 Best Restaurants Award Breakthrough winner 2010, holder of 'Three Hats', Sydney Morning Herald's 'Chef of the Year', and Time Out Sydney's 'Restaurant of the Year, will be serving dinner to 12 guests on one large table in the De Montfort Suite.
Guests at the exclusive event will be able to sample culinary offerings that echo the menu at Marque, Mark Best's award winning Sydney restaurant.
Each dish on the menu is subject to Mark's market visit, to be undertaken when he arrives here in the UK. He'll amend the dishes to make use of the best local seasonal ingredients available in London because his ethos is such that only the very best produce earns a place in his food. The resulting dishes are "delicious, harmonious and aesthetic, where the technique is hidden and the ingredients shine."
Dishes featured on the proposed menu include Almond Jelly with Blue Swimmer Crab, Almond Gazpacho, Sweet Corn & Avruga and Vacca Rossa Reggiano with Black Truffle & Potato En Cocotte. A dessert of Chocolate Mousse Écrasé, Eucalyptus & Coconut Provençal Musketeer is also on the menu.
This will be the first time Mark has showcased his cooking in the UK and its a unique opportunity to try out his eclectic and boundary-breaking food.
The dinner is priced at £160 per person including all food and wine. To reserve a place at this highly anticipated event contact Clarise@theloftproject.co.uk