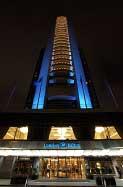 The Mayfair Park and Tower Race is to take place for the second time on Wednesday 7th July 2010. The 5km run aims to raise money for Galvin's Chance, a charitable project set up through Hilton in the Community Foundation to support underprivileged young people into work in the hospitality industry. The date is fast approaching, and organisers are urging willing participants to sign up before places run out. For more information and to enter, visit
www.mayfairparkandtowerrace.com
Runners will make their way around the Serpentine Lake and up the stairs of the London Hilton on Park Lane, arriving at Galvin at Windows, perched on the 28th floor. The only requirement is a commitment to raising £250 for Galvin's Chance – organisers are hoping to beat the £22,000 raised last year.
Runners this year include Chef Michel Roux Jr, Gladiators Amazon, (Zoe Williams) Siren (Amy Guy) and Doom (Wayne Gordon.)
One of last year's successful apprentices on the scheme, Kamal Manhas, said of Galvin's Chance:
'It's opened so many doors for me and shown me opportunities I never even knew existed. My life has completely changed since Galvin's Chance. I always used to think about the past and present but now I have reasons to be excited about my future. I'm really grateful to everyone at Galvin's Chance for this opportunity."
Runners will also be automatically entered into a competition to win an evening's stay at the London Hilton on Park Lane, including breakfast and dinner at Galvin at Windows. The winner will be announced after the race at Galvin at Windows.
For more information and entry details visit: