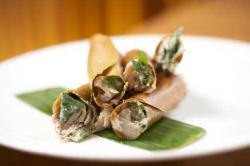 David Thompson's renowned Thai restaurant at The Halkin hotel, nahm, is offering a series of Thai cookery courses over the next few weeks.
David will be running cookery master classes to show how to recreate well known Thai dishes with expert guidance from Head Chef Matthew Albert.
Thai cuisine covers a huge variety of techniques and skills and this master class has been devised to cover all the different aspects of Thai food. A Thai meal is an exercise in balance. Several dishes arrive together and are eaten with rice. Rarely does a meal have a repetition of dishes or tastes, so a curry, a salad, soup and a stir fry all combine to make the meal varied and healthy. Each class is designed to demonstrate the various techniques and dishes employed to create a balanced, complete Thai meal.
The morning starts at 10am with coffee, where guests are given a relaxed introduction to recipes and ingredients they will be using during the class. The classes are very involved and take place in nahm's own kitchens. To ensure all guests are able to really participate, each class will have no more than eight guests.
Having spent the morning learning about the ingredients and techniques to make Thai cuisine, guests then retreat to nahm's elegant Private Dining Room for lunch. The day ends around 3.30pm.
A complete Thai meal including a selection of matching wines costs £275.00 per person Inc VAT plus £75.00 for an additional lunch guest.
The master class will be running from 10am-3.30pm on the following dates:Saturday 12th March 2011 and Saturday 9th April 2011
For further information or to make a booking contact Jackie de Panizza on + 44 (0) 20 7333 1011 or email cooking@nahm.como.bz