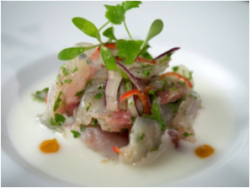 Gaucho's Executive Chef, Brett Duarte, has declared that autumn "is the season to try something new". His seasonal menu, available at all Gaucho restaurants, features a selection of dishes that showcase Argentina's distinctly European food heritage combined with the best of Argentine culinary technique, in addition to the famous Gaucho pampas-reared Argentinian beef cuts.
Thinly sliced pieces of raw sea bream make up the ceviche starter Tiraditos with crisp and delicate flavours of ginger and coriander.  This dish is perfectly accentuated with a glass of Finca Sophenia 2013 Sauvignon Blanc, chosen by Gaucho's Director of Wines, Phil Crozier.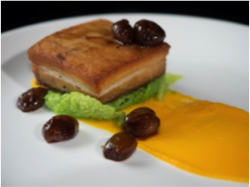 Rabbit braised in Torrontés, an aromatic white Argentinian wine with notes of peaches and apricots, adding a sweetness to the Pappardelle with Rabbit Ragu main course. While seasonal salads like the Roast Butternut Squash, Beetroot and Black Quinoa Salad embrace the best of South American ingredients.
For the first time, pork will play a leading role on the menu with dishes such as Confit Belly of Pork served with a pumpkin puree, glazed button onions and buttered cabbage, or the generously proportioned and spiced Sausage Platter which serves up to six different varieties of sausage.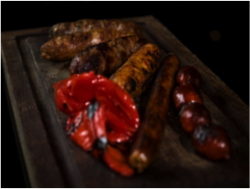 The platter includes six sausages exclusive to Gaucho, inspired by age-old Argentinian recipes including the Gaucho chorizo, chicken and piquillo pepper, pork and fennel, Spanish chorizo pinchos, beef with olives and capers and, spiced merguez, all beautifully staged on the signature Gaucho carving board.
To finish, delight in Poached Pears, Walnut Sponge and Yoghurt Mousse served with fresh blackberries to contrast with the rich flavours of the renowned Gaucho beef cuts. Or indulge in one of the Gaucho classics that has made a welcome return, the Dulche de Leche Cheesecake served with an indulgent side of the salted caramel treat and paired with the silky texture of Luigi Bosca 2011 Gewürztraminer.
All dishes on the autumn menu are complemented by a comprehensive wine list.
Enjoy the full autumn menu at all Gaucho restaurants or opt for the set lunch menus offering 2 courses for £23 or 3 courses for £26.