Japanese food Mecca and celebrity hangout Nobu is returning to its roots and hosting three unique events with the creator himself. Nobu Matsuhisa will be flying to London for what promises to be a spectacular eating experience. Nobu will educate and inspire the lucky diners whilst exploring the flavours that have made Nobu famous the world over. They will learn about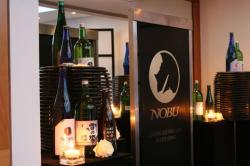 the tradition, design and construction of flavours, whilst enjoying exemplary dishes that possess the elusive Umami, or fifth taste.
For £260 guests will have their minds dazzled and learn an entirely new way of tasting. Pairing each course will be expertly chosen Sake to carefully and authentically counterpoint the dish's flavour. Prepare for such delights as King Crab Tempura with Amazu Ponzu and Grilled Wagyu Steak with Jerusalem artichokes. This is a truly unique event and one that can only be enjoyed by very few. If you've dreamt of Japan but have a phobia of flying this could be your next best option. To reserve, please contact Amir Jati, Events and Private Dining Manager at Nobu London, amirj@noburestaurants.com or telephone 020 7447 4777.