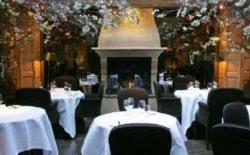 Promotional Feature
One of London's top romantic restaurants introduces its very own cupid for Valentine's Day 2011 Calling love-sick fools and hopeless romantics everywhere: Covent Garden French restaurant Clos Maggiore is capturing the spirit of Valentine's Day 2011 like never before.
The restaurant, already rated one of London's most romantic (Harden's London Restaurants 2011, 2010 and 2009), has introduced a Maitre d'Amour to help create the perfect Valentine's Day occasion. Whether to celebrate impending nuptials, declare undying love or give a helping hand to unrequited loves, the Maitre d'Amour, Daniel Kapp, will tailor the restaurant, its food, atmosphere and interior to your exact specifications to truly show The One that you care.
He can help ensure their favourite meal is on the menu, work with head chef Marcellin Marc to create innovative and beautifully presented gourmet French dishes that remind you of that special moment, or even help create a menu that's packed full of aphrodisiacs. Whether you want your favourite champagne on ice, to fill the restaurant with your favourite flowers or balloons, or to listen to your personal choice of love songs, poetry readings or a live string quartet, the Maitre d'Amour will oblige.
If you so desire, hire the whole restaurant! For the ultimate romantic package, Clos Maggiore can also arrange tickets to the nearby Royal Opera House, or a suite at an exclusive boutique hotel, with chauffeur-driven transport to and from the restaurant. And if you actually want to pop the question – a common occurrence at Clos Maggiore, which sees at least one pair of diners a week propose in its blossom-filled dining room, where the stars are always shining through the glass roof – we'll hide your ring in a bespoke chocolate box to surprise and delight your loved one.
Daniel said: 'Clos Maggiore is already a top choice for London lovers but as Maitre d'Amour I'm really turning up the heat to make Valentine's Day 2011 truly unforgettable."
Clos Maggiore 36 King Street Covent Garden WC2E 8JD Tel. 020 7379 9696 www.closmaggiore.com