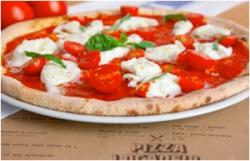 Pizza Locadeli, the pop up pizza restaurant set up by Michelin starred restaurateurs Plaxy & Giorgio Locatelli, is only open for another month, closing on December 23rd. 
Taking up residence at the site of the Old Post Office, Pizza Locadeli is the perfect setting for a Christmas party, and offers a relaxed, Trattoria-style dining experience in a spacious and vibrant setting.  Show-stopping pizzas for this year include the Tartufo, made with Taleggio, and fresh black truffles, and the Seaside, made with tomato, mozzarella, prawns, swordfish, clams and salmoriglio.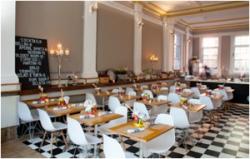 The restaurant features a large, informal bar in the centre of the dining room, offering classic cocktails such as Negronis and Aperol Spritzs and a number of specially selected wines.
Pizza Locadeli also offers a delicious brunch menu, including Scrambled eggs with Black truffle, Fried eggs with chilli & avocado and Fried polenta with guacamole and crispy pancetta. 
Opening hours: Sun-Thurs 12pm to 11.00pm, Fri-Sat 12pm to 12am. 
116-117 Upper St, London N1 1AE