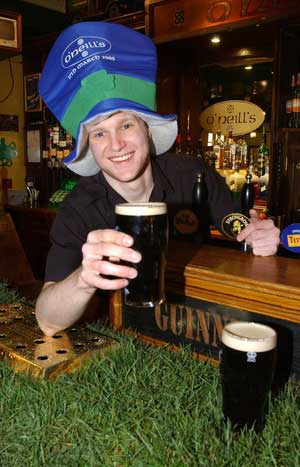 With St Patrick's Day just around the corner (17 March), food lovers of all things Irish can bring home an extra taste of the Emerald Isle thanks to a new Ballymaloe Relish gift pack, which is now available at selected O'Neill's.
Having served the delicious accompaniment with its house menu since October 2008, O'Neill's has responded to customer feedback by making Ballymaloe Country Relish and Jalapeno Pepper Relish available to buy at pubs serving its new Irish grill menu.
Rich in tomatoes and using the finest ingredients, Ballymaloe Relish was founded in 1990 by Yasmin Hyde – daughter of Myrtle Allen of the world renowned Ballymaloe House in Co Cork, Ireland. The relish is now used famously with dishes served by the celebrated Irish chef Darina Allen at her Ballymaloe Cookery School, and is only available only at selected outlets across the UK.
O'Neill's sources its finest ingredients direct from several Irish suppliers, and has launched the Ballymaloe gift pack to coincide with the roll out of its Pub & Grill Menu – which is currently served at seven pubs – to 12 more outlets across the UK.
Amongst the offering on the new Pub & Grill Menu are favourites, such as the 10oz County Kildare Rib-eye Steak, the Mixed Grill and O'Neill's new combination dishes, including the Half Rack of Ribs and Chicken Breast Combo.
For further details about the new Irish Pub & Grill Menu at O'Neill's, please visit www.oneills.co.uk.