Jewish food is pure comfort and often as rich as the culture that spawned it. Both will be celebrated with just the right amount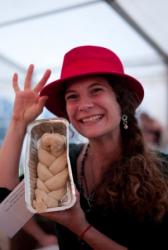 of schmaltz at the fourth annual Gefiltefest on May 19th, held at the London Jewish Cultural Centre. The festival features cooking demos, lectures, tastings, workshops and stalls, and also plays host to the 2013 Jewish Food Awards, recognising the best of Kosher nosh the capital has to offer.
Whilst London foodies might descend on founder Michael Leventhal's event like a plague of the proverbial insects, locusts will indeed be on the menu as their kosher status is debated and chocolate-covered specimens are sampled. Speakers will also chew over issues like food in Jewish literature, food waste, and where to find the best beigels in Brick Lane with Rachel Kolsky's'virtual food tour' of London.
Also on the menu are demos from noted Jewish chefs including Alan Rosenthal and Marlena Spieler, variously showing off their chocolate making, spice tasting, pickling and curing skills. Artisans from the London Jewish Bakers' Union will baking up hella-good challah bread, and there's hot competition between the Ashkenazis and Sephardis in the kitchen with a cook-off judged by Giancarlo Caldesi and Clarissa Hyman. Gefiltefest is one event not to Passover.
For more information on Gefiltefest, visit www.gefiltefest.org To purchase advance tickets, click here To vote in this year's Jewish Food Awards, visit www.thejc.com/gefiltefest-awards