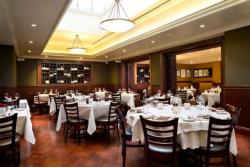 1-3 Pont Street, Belgravia, London, SW1X 9EJ www.thepalm.com/london
Possibly one of the worst days in childhood is moving from orange calpol to purple calpol. It doesn't taste the same, I don't care about being a big boy now, I want my purple calpol. For me, purple calpol perfectly summarises the phrase you don't know what you've got till it's gone.
Steak is a valued commodity. Occasionally you lapse in standards with steak and never forget the location where the travesty occurred. I messed up big time once by trying to improvise a Jack Daniels jus consequently ruining a good steak attempt. Then there's cheaper cuts that we're all convinced we can cook perfectly, but your complete lack of ability is always highlighted by visiting a decent steakhouse.
The Palm in Knightsbridge has a real corker when it comes to a damn good steak. My radar's always pretty good for remembering a good one, but the Palm's registered heavily and slipped into my recommendations a lot more lately for carnivores. Their pride and joy is the New York Strip and, just like a good American should, they take steak eating rather seriously.
It's the first time that I've been shown the instrument used to cook the steak with such enthusiasm. I think I've pretty much earned every steak-cooking badge, probably through effort rather than skill, with the frying pan arguably being my forte but the bbq isn't far off. The Palm has a Josper, a four-foot high metal beast, which cooks through a combined grill and oven combination. To be honest I'm not that fussed on how to use it as long as it produces something that's really going to make me feel happy about parting with the money I've forked out.
It does. I've got no quarrels paying for a good one, within reason obviously, I'm not the type of bloke that will pump out his wages on Kobe beef from cattle that's been reared gold and diamonds. However if it's cooked well and I'm not short-changed on price, I'll happily walk out satisfied. And what's more, I really like the big handled steak knives, especially when you're piddly normal knife is swapped for the knife of champions. Yeah, I'm a bloke. Great.
Armed with my beef slayer I'm well-up for this giant chunk of steak in front of me, and his mate for that matter. I'm well-ard with this knife. I'll have all of ya, even though the strip is a pretty big fella. Like the name suggests, it's similar to a traditional sirloin that you'd get in England, only thicker with a receding Mohican of fat. Next to him is my favourite, the ribeye. I used to be a sirloin man, but the marbling rib-eye sneakily took over.
I drew my blade down upon the New York Strip first and carved a good size chunk off the end for the first bite. It's an important moment of evaluation and is usually pretty instant. You don't need two or three mouthfuls to judge whether you like a steak or not. First you notice a good solid but soft texture, then your seasoning senses kick in. Slight salt undertones and a heat from pepper, then a rush of meat juices and a dash of fat. My safety chute of ribeye remained on standby, no need to pull the chord on the strip.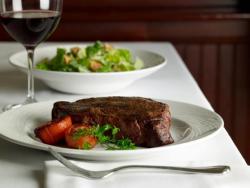 You've got your usual trophies for the saucey buggers out there, hollandaise, a brandy peppercorn, béarnaise and the lesser-spotted chimichurri. They're all good but I'm opting to leave the majority of my meat decontaminated. You can obviously throw in a bit of potato in your preferred form and a bit of green veg, I go for creamed spinach, but best not mask the steak taste too much.
I do recall a starter and dessert, but let's not pretend that you'll be coming here specifically for either course. That's not an attempt to distract attention from them, the Caesar salad and cheesecake were faultless, but you don't go to the Arctic for a suntan. There's only so much you can say about crunchy fresh lettuce and a smooth creamy cheesecake.
I'm not won over enough to buy a Josper. I definitely can't justify a couple of grand on that, plus I've recently won my dad appreciation badge for steak-cooking so no need. However, if your main focus is on steak then you'll feel good about adding The Palm to your list, plus there's plenty of other options for the lunatics that prefer orange calpol. I'd like to stick the good stuff. The Palm has buckets of it and even decent utensils to shovel it in.