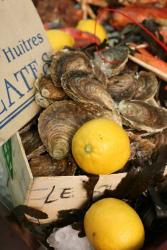 Shell out a few quid at Le Bouchon Breton in old Spitalfields Market to taste oysters paired with a range of handpicked Champagne and white wines.
Breton's Assistant Head Waiter Yoann Truwant was born and bred in La Rochelle, as a young lad he developed a passionate interest in oysters, which has remained with him to this day. Over the years he has travelled all over Europe eating and scrutinising every different variety of his beloved bivalve and is now ready to pass on his instinctive and well researched knowledge to his pupils.
Each oyster masterclass will feature 10 different varieties of oysters especially sourced from around the coastlines of regional France, England, Scotland and The Channel Islands and these will be paired with a glass of ice cold Champagne, Tourraine, Pouilly Fume and Entres deux Mer.
Yoann will begin each class by demonstrating the correct way to open the oysters and each person attending will be given their own shucker to have a go and will be able to take it home at the end of the class for future practise – be prepared to get your hands dirty.
Breton's oyster maestro will talk the class through the 10 different varieties featured and while you sample each one will describe why there are different tastes, textures and smells, explain why the wines go well with each variety, point out when and why it's best to eat oysters at different times of year, show how to recognise a bad oyster, perform an impressive cookery demonstration with hot oysters in a rich cream and spinach sauce alongside a little bit of history which is in the future sure to impress friends and family and generally teach the class everything there is to know about his beloved oysters.
Breton oyster masterclass times and dates
Friday 25th of September 2009 from 6.30pm
Friday 30th of October 2009 from 6.30pm
Friday 27th of November 2009 from 6.30pm
December 2009 no class
Friday 29th of January 2010 from 6.30pm
Friday 26th of February 2010 from 6.30pm
Friday 26th of March 2010 from 6.30pm
Oyster masterclasses will run for approximately one hour and a half

The Breton oyster masterclasses will cost £60 per person for a fun night out for foodies and lovers of shellfish and fine wines.
To reserve a place on one of the classes please contact reservations at Le Bouchon Breton on 08000 191 704.
8 Horner Square Old Spitalfields Market, London E1 6EW, Tel: 08000 191 704