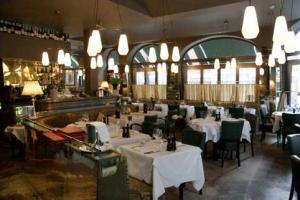 Chelsea brasserie Papillon has created its own version of a traditional Burns Night classic – the Chelsea Haggis.
Head chef Tom Hempstead has decided to offer an alternative to the usual recipe, which normally includes sheep's heart, liver and lungs boiled in the animal's stomach.
The Chelsea Haggis comprises confit pork belly, foie gras, sweetbreads, morels and black truffles served with the finest Limousin beef fillet. It will be accompanied by ratte potato purée and Madeira glazed turnips.
Said Tom Hempstead: 'I suspect this could cause uproar in some quarters but I wanted to offer something that appeals to more people, something delectably 'Chelsea'.
'I also wanted to retain some of the traditions of the haggis so that more people can enjoy and take part in this great tradition."
The Chelsea Haggis will be available at Papillon, 96 Draycott Avenue London, SW3 3AD, for £26.50 a head from Burns Night itself, Monday, 25 January to Sunday, 31 January.