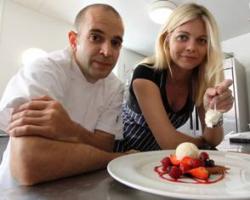 Three of the world's leading fashion icons have teamed up to create a designer menu for the Chelsea brasserie, Papillon, The menu will be available during London Fashion Week (18 – 25 September) to celebrate its 25th anniversary and part of the proceeds will go to the Eve Appeal charity. Called Kitchen Couture, the menu is comprised of the favourite dishes of designer Roland Mouret, famous make up artist, Jemma Kidd and respected milliner, Cozmo Jenks. Jemma and Cozmo each cooked with the chefs at Papillon to teach them their own personal secrets in creating their chosen dishes. The £25 fixed price menu is:
Cozmo Jenks's Tuna Tartare
*
Roland Mouret's Pot Au Feu
*
Jemma Kidd's Mille Feuille
Eve Appeal, which funds ovarian cancer research, will receive £5 from the restaurant each time a customer chooses the menu between 18-25 September.
Papillon, 96 Draycott Avenue, London SW3 3AD, Tel: 020 7225 2555