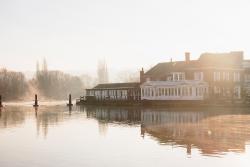 Michelin starred chef Atul Kochhar is teaming up with award winning chef and BBC Two's Great British Chefs contestant Paul Foster for a one off culinary collaboration at Sindhu by Atul Kochhar in the picturesque village of Marlow.
Paul Foster, who is currently Head Chef at The Dining Room at Mallory Court Hotel, will be preparing a gourmet Tasting Menu alongside Atul at his restaurant, Sindhu on 16 September 2015. The special menu will combine Paul's natural modern British cooking, with Atul's take on the flavours of South West India in a way that perfectly balances one with the other: Both chefs place great focus on creating dishes with sensational flavours using local and seasonal ingredients.
The evening starts at 6pm and the Tasting Menu is £60 per person or £110 with matched wines.
Tasting Menu, with matched wines
Tomato Tart, Split Parmesan Pastry, Avocado Emulsion, Chorizo (Paul Foster)
Canard- Duchene, Charles VII. Smooth Rose, Ludes NV        
Dive Caught Scallops with Textures of Cauliflower (Atul Kochhar)
Chablis 1 er Cru, Les Vaillions Domaine Bernard Defaix- 2013
Steamed Turbot, Spiced Marrow, Coconut Mango Sauce (Atul Kochhar)
Lawson Dry Gewurztraminer- Marlborough 2012
Nimbu Paani Sorbet (Atul Kochhar)
Grilled Free Range Chicken with Coriander, Quinoa with Red Onion and Grapes (Atul Kochhar)
Mercurey Rouge, Domaine Michel Juillot 2012
Loin of Hare, Pistachio Crumb, Elderberries, Parsnip (Paul Foster)
Crozes Hermitage Cuvee Alberic Bouvet, Domaine Gilles Robin-2012
Rose Granita (Atul Kochhar)
White Chocolate Aero
Whipped Passion Fruit Curd, Coriander (Paul Foster)
Maury Grenat Grenache Noir, Vin Doux Naturel, Cotes Catalanes 2013
:
Sindhu by Atul Kochhar
Macdonald Compleat Angler
Marlow Bridge Lane
Marlow
Buckinghamshire
SL7 1RG
To book please call: 01628 405 405
Email info@sindhurestaurant.co.uk
Website: www.sindhurestaurant.co.uk
Twitter: @SindhuMarlow